Videodrome
»Videodrome«
CDN 1982/83 • 87 Min. • engl. OV.
Regie: David Cronenberg
(s.a.
»Maps To The Stars«
)
Buch:
David Cronenberg
mit:
James Woods (Max Renn), Sonja Smits (Bianca O'Blivion),
Deborah Harry
(Nicki Brand) (
s.a.
»Mapplethorpe«
und
»The Fluffer«
und
»Spun«
), Peter Dvorsky (Harlan)
Kamera / Bildgestaltung:
Mark Irwin
Schnitt / Montage: Ronald Sanders
(s.a.
»Maps To The Stars«
)
Musik: Howard Shore
(s.a.
»Dogma«
und
»Panic Room«
und
»Maps To The Stars«
)


»Ich fühlte, daß die Visionen sich eindickten. Sie wurden Fleisch, unkontrollierbares Fleisch.«
Professor O'Blivion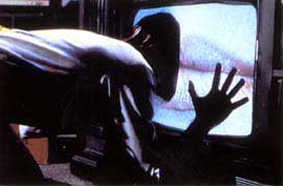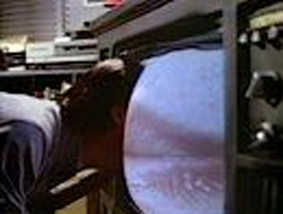 Max guckt sich das Programm an, in dem seine Freundin Nicki ausgepeitscht wird, anschliessend lockt sie ihn »… Komm zu mir Max …«
Brigitte Desalm in Steady Cam 11/1989 über einige Motive bei David Cronenberg:

Die Wissenschaftler, die Experimentatoren am Menschen, werden zugleich ihre eigenen Opfer: Max Renn, der Manager eines Privatsenders, der ein neues »scharfes« Programm zuerst an sich testet ... Als Max Renn den Virus in seine Augen gelassen hatte und der sich ausbreitet im Kopf, als Kopf und Fleisch uneins waren, ob das eingedrungene Programm
Videodrome
, die Einebnung der Grenzen zwischen Illusion und Realität, zurückzuweisen sei oder nicht, da begann das Fleisch für Max zu sprechen. Der Kopf wollte wieder frei sein, da bildete sein Leib eine Mulde, einen Kassettenschlitz, eine Vagina für die Befruchtung von Max, der zum »neuen Fleisch« werden sollte ...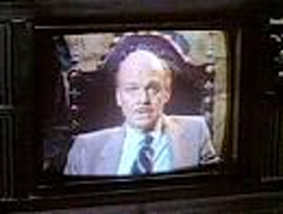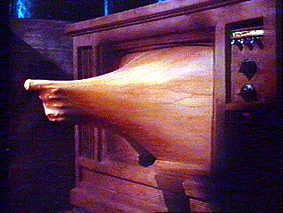 Professor O'Blivion in einem Video … they are dangerous, Max, because they have a Philosophy …
Dieser Film lief im Xenon im Dezember 1999