The Hours - Von Ewigkeit zu Ewigkeit

»The Hours« USA 2002 • 110 Min.

Regie: Stephen Daldry
(s.a. »Billy Elliot« und »Der Vorleser«)

Buch: David Hare
(s.a. »Der Vorleser«) nach dem Roman von
Michael Cunningham
(s.a. »A Home at the End of the World« und »Spuren eines Lebens«)

mit: Meryl Streep
(Clarissa Vaughan) (s.a. »Suffragette« und »Im August in Osage County« und »Spuren eines Lebens« und »Mamma Mia!«),
Julianne Moore
(Laura Brown) (s.a. »Freeheld« und »Still Alice« und »Maps To The Stars« und »The Kids Are All Right« und »A Single Man« und »Far from Heaven« und »Magnolia« und »Ein perfekter Ehemann« und »Psycho (1998)« und »Cookies Fortune« und »I'm Not There« und »Wilde Unschuld«),
Nicole Kidman
(Virginia Woolf) (s.a. »Boy Erased« und »Eyes Wide Shut«), Ed Harris,
Stephen Dillane
(s.a. »Wilde Unschuld«),
Toni Collette
(s.a. »Mary and Max« und »Velvet Goldmine« und »Spuren eines Lebens«),
Claire Danes
(s.a. »Me & Orson Welles« und »Stage Beauty« und »Spuren eines Lebens«),
John C. Reilly
(s.a. »Magnolia«),
Jeff Daniels
(s.a. »Steve Jobs« und »Howl«), Linda Bassett, Miranda Richardson

Kamera / Bildgestaltung: Seamus McGarvey
(s.a. »Nocturne Animals« und »We Need To Talk About Kevin« und »Abbitte«)

Schnitt / Montage:
Peter Boyle

Musik: Philip Glass
(s.a. »Tagebuch eines Skandals« und »Bent« und »Koyaanisqatsi«)

OSCAR® und Golden Globe 2003
für Nicole Kidman jeweils Beste Hauptdarstellerin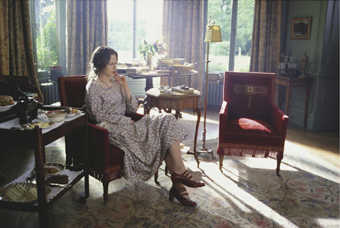 .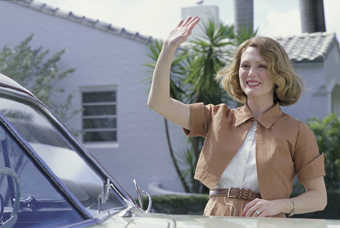 1923: Virginia Woolf ist leicht depressiv, weil ihr der erste Satz ihres Romans »Mrs. Dollaway« nicht gleich einfällt ...
1952: Laura Brown führt nur nach aussen hin ein ideales Familienleben ... in Wirklichkeit ist sie suizidgefährdet ...
Drei Zeitperioden, drei Frauen und drei Geschichten, die ineinander fliessen: In einem Vorort von London kämpft 1923 die Schriftstellerin Virginia Woolf gegen ihre Depressionen und zugleich mit dem Eröffnungssatz ihres ersten großen Romans »Mrs. Dalloway«. Nach einer heftigen Auseinandersetzung mit ihrer spitzzüngigen Schwester Vanessa, von der sie als »gestört« bezeichnet wird, ist sie einem Zusammenbruch nahe. Völlig aufgelöst macht sie sich auf den Weg in die Stadt, was ihr besorgter Ehemann Leonard ihr auszureden versucht.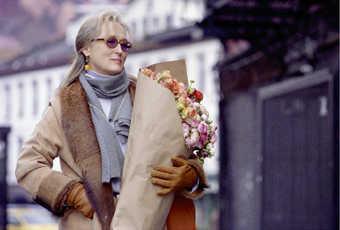 .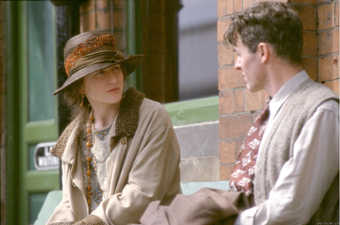 Die Gegenwart: Die lesbische Clarissa Vaughan bereitet ihrem an AIDS erkrankten Freund einen Empfang vor ...
1923: Virginia ist unzufrieden mit dem Leben in der Vorstadt, sie will wieder zurück nach London ...
Im Los Angeles des Jahres 1952 erkämpft sich die schwer kranke Hausfrau Laura Brown, eine Leserin von »Mrs.Dalloway«, ein kleines Stück Freiheit von ihrem dominierenden Mann, einem Kriegshelden, der sie mit ihrer Krankheit völlig allein gelassen hat. Die heimliche Virginia-Woolf-Lektüre verleiht ihr schließlich die Kraft, ihrem Leben eine neue Wendung zu geben.
Und im New York der Gegenwart plant Clarissa Vaughan eine Party für einen an Aids sterbenden Freund - viel ist nicht geblieben von dem einstmals brillanten Dichter Richard, den Clarissa immer noch liebt und der sie seit jeher spöttisch »Mrs. Dalloway« nennt. Wie Virginia Woolfs Roman beginnt Clarissas Tag mit einem Blumeneinkauf - und wie der Roman endet er mit einem Selbstmord ...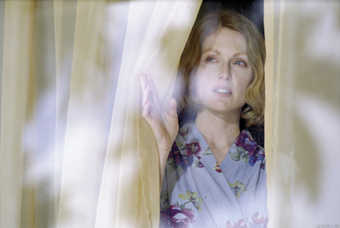 .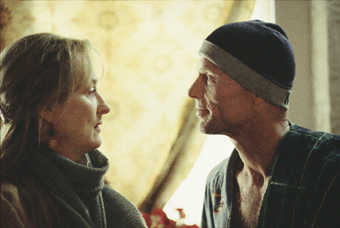 1952: Laura verabschiedet sich von Mann und Sohn und beschliesst, sich das Leben zu nehmen ...
Die Gegenwart: Richard hat mit seinem Leben abgeschlossen. Clarissa ist noch nicht bereit loszulassen ...
This film covers three periods in time; it focuses on three women and three stories, all of which are interwoven. In a suburb of London in 1923,writer Virginia Woolf battles with depression and with the opening line of her first great novel, »Mrs. Dalloway«. Following a heated argument with her sharptongued sister, Vanessa, who describes Virginia as 'deranged', Virginia is on the edge of a nervous breakdown.Distraught,she makes her way into town, in spite of her worried husband Leonard's attempts to dissuade her.
Los Angeles in 1952. Housewife Laura Brown is reading »Mrs. Dalloway«. Laura, who is seriously ill, is fighting for a tiny piece of freedom from her domineering war hero husband, who has left her to cope with her illness on her own. Reading Virginia Woolf's book in secret finally gives Laura the strength to give her life new impetus.
New York in the present. Clarissa Vaughan plans to throw a party for a friend who is dying of AIDS.There's not much left of Richard, the once brilliant poet whom Clarissa still loves and who has always mockingly called her »Mrs.Dalloway«. Just like Virginia Woolf's novel, Clarissa's day commences with her buying flowers; it ends, just like in the novel, with a suicide ...
Dieser Film lief im Xenon Kino im Juni / Juli 2003 und September / Oktober 2003