Priscilla - Königin der Wüste
»The Adventures of Priscilla - Queen of the Desert«
Australien 1994 • 105 Minuten • CinemaScope
Regie: Stephan Elliott
(s.a.
»Easy Virtue«
)
Buch:
Stephan Elliott
mit:
Terence Stamp (Bernadette),
Hugo Weaving
(s.a.
»Matrix«
und
»Matrix Reloaded«
und
»Kreuz und Queer - Bedrooms and Hallways«
), (Tick),
Guy Pearce
(s.a.
»Holding The Man«
und
»The King's Speech«
und
»Factory Girl«
) (Felicia) und Bill Hunter
Kamera / Bildgestaltung:
Brian J. Breheny
Schnitt / Montage: Sue Blainey
(s.a.
»Easy Virtue«
)
Musik:
Guy Gross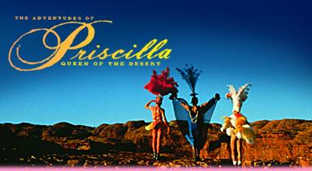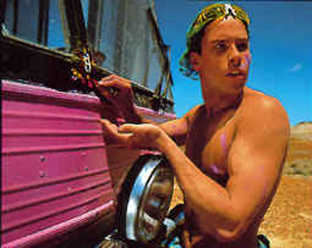 die drei Travestie-Stars auf den Weg in die Mitte Australiens: nach Alice Springs ... nachdem der Bus unterwegs von engstirnigen Hinterwäldlern mit »AIDS Fuckers Go Home« beschmiert wurde, bekommt er einen neuen Anstrich ...
Die endlose Weite der
australischen Provinz
steckt voller Abenteuer. Besonders dann, wenn man seinen Lebensunterhalt als Travestiestar verdient und im Glitzerfummel auf dem Weg zu einem Gastspiel im
tiefsten Hinterland
ist. Kein Wunder, daß auch für Mitzi alias Tick, Felicia alias Adam und ihren transsexuellen Freund Bernadette keinen Augenblick Langeweile aufkommt. Auf dem Weg von Sydney nach
Alice Springs
macht ihnen jedenfalls nicht nur ihr klappriger Reisebus namens Priscilla zu schaffen. Bei jedem Zwischenstop bringen sie automatisch ganze Heerscharen von Hinterwäldlern gegen sich auf. Ein sympathischer Provinzler namens Bob, der ein Auge auf Bernadette geworfen hat und die altersschwache Priscilla nach einem Zusammenbruch wieder instand setzt, scheint jedenfalls der einzige, der dem schrägen Trio wirklich freundlich gesonnen ist. Kaum ist nach langem Hin und Her das ersehnte Ziel endlich erreicht, da sorgt Tick mit einer späten Enthüllung für zusätzliche Aufregung; aber auch dafür, daß Adam und er nach Bernadettes Verzicht auf die Rückreise nicht ohne Begleitung wieder in Richtung Sydney auf brechen müssen ...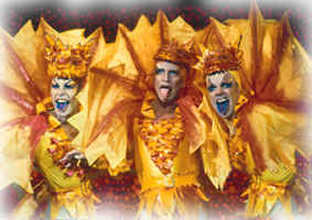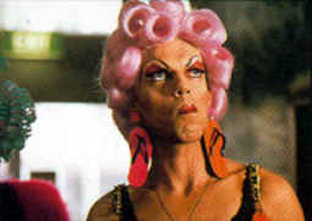 nicht überall kommt die Show gleich gut an ... Tick verkauft nebenbei Make-Up ...

Dieser Film lief im Xenon im Februar und Dezember 1998, im Januar 2001, im Januar bis Februar 2003