The Raspberry Reich

D 2003 • 90 Min. • frei ab 18 • MPAA: unrated • engl.O.m.U.

Regie: Bruce LaBruce
(s.a. »Gerontophilia« (2014) und »L.A. Zombie« (2010) und »Otto; Or Up With Dead People« (2008) und »Skin Flick« (1999))

Buch:
Bruce LaBruce

mit: Susanne Sachsse
(Gudrun) (s.a. »Otto; Or Up With Dead People« (2008) und »18:15 ab Ostkreuz« (2006) und »Martina« in »Fucking Different« (2005)),
Daniel Bätscher
(Holger) (s.a. »Skin Flick« (1999)), Gerrit (Helmut), Joeffrey (Horst), Andreas Rupprecht (Patrick), Dean Stathes (Andreas), Anton Z. Risan (Clyde), Daniel Fettig (Che) sowie
Ulrike Schirm
(s.a. »Gefangen« (2004) und »Mutti - Der Film« (2003)), Sherry Vine, Pünktchen und Genesis P. Orridge

Kamera / Bildgestaltung: James Carman
(s.a. »Erica Jong - Breaking the Wall« (2022) und »L.A. Zombie« (2010) und »Otto; Or Up With Dead People« (2008) und »Skin Flick« (1999))

Schnitt / Montage: Jörn Hartmann
(s.a. »L.A. Zombie« (2010) und »Otto; Or Up With Dead People« (2008) und »18:15 ab Ostkreuz« (2006) und »Cycles of Porn« (2003) und »Mutti - Der Film« (2003))

Musik:
-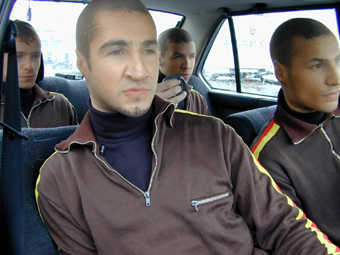 .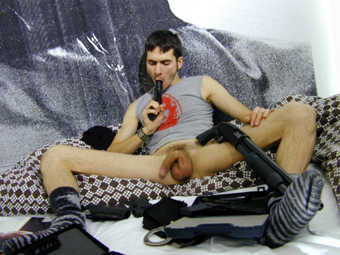 die Terroristen versuchen den Bankierssohn Patrick zu entführen ... Che pflegt die Waffen und seinen Schwanz ...
Der Film von Bruce LaBruce spielt in Berlin und erzählt von einer Gruppe Terroristen, die an einer schwulen Revolution basteln. Als Protagonisten eines »Radical Chic« berufen sie sich dabei auf Vorbilder aus der RAF. Am Anfang ihres bewaffneten Kampfes steht eine spektakuläre Entführung. Ihr Opfer ist Patrick, Sohn eines schwerreichen deutschen Bankiers. Nicht alles verläuft dabei nach Plan: Im allgemeinen Chaos landet Clyde, einer der Entführer, zusammen mit Patrick im Kofferraum des gestohlenen Fluchtfahrzeugs ...
Clydes Genossen ahnen nicht, dass diese Panne kein Zufall ist. Während er Patrick ausspionierte, wurden die beiden nämlich ein Paar. Längst haben sie beschlossen, nach der Geiselnahme gemeinsam das Weite zu suchen. Die Entführer wissen auch nicht, dass ihre Geisel völlig wertlos für sie ist: Patricks Vater will nichts von seinem missratenen, homosexuellen Sohn wissen.Unterdessen predigt Gudrun, die Chefin der Aktivisten und glühende Anhängerin Wilhelm Reichs, innerhalb der Gruppe unverdrossen ihre Thesen: Monogamie sei nur ein bürgerliches Konstrukt und Heterosexualität »Opium fürs Volk«. Darum zwingt sie ihre männlichen Kombattanten zum Sex untereinander, nur so könnten sie ihre Berufung zum Revolutionär unter Beweis stellen. Auch Holger, ihrem Freund, bleibt zu seinem Leidwesen nichts anderes übrig. Das zu erwartende Lösegeld aus der Entführung möchte Gudrun unter den Erniedrigten des Proletariats verteilen, schon um Sympathien für ihren Kampf zu gewinnen. Doch Patrick und Clyde haben andere Pläne: Nachdem ihnen die Flucht geglückt ist, beginnen sie, Banken zu überfallen ...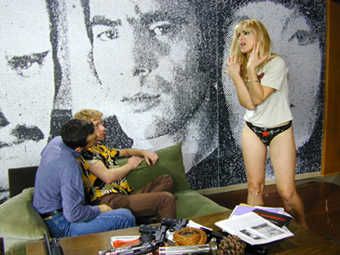 .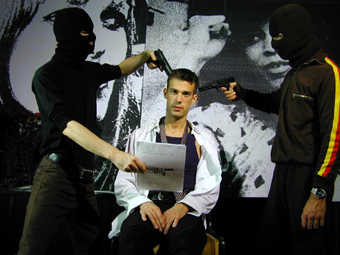 nachdem das Pärchen Patrick und Clyde geflüchtet sind, herrscht Aufregung ... doch Patrick wird von seinem Vater gar nicht vermisst ... er hatte sich gerade als schwul geoutet ...
Set in Berlin, Bruce LaBruce's film centres on a group of terrorists who are working on nothing less than a gay revolution. Calling themselves the proponents of »radical chic«, they cite Germany's Red Army Faction as their role models. Their armed struggle commences with a spectacular kidnapping. Their victim is Patrick, whose father is one of Germany's richest bankers. However, not everything goes according to plan; in fact, as a result of the general mayhem, kidnapper Clyde winds up with the hostage Patrick in the boot of the stolen getaway car ...
Unbeknown to Clyde's comrades, it seems that this happenstance was anything but a coincidence. Having become lovers whilst Clyde had Patrick under surveillance, the two quickly decided to run off together after the heist. Something else the kidnappers don't know is that their hostage is worthless as far as they are concerned: angered at his son's homosexuality, Patrick's father has decided he wants nothing to do with his 'failed' offspring. Meanwhile,Gudrun, the activists' leader and an impassioned follower of Wilhelm Reich, never tires of preaching her theses. Monogamy, she pronounces, is a bourgeois construct, and heterosexuality the »opiate of the masses«. For this reason, she forces her male comrades-in-arms to have sex with each other. This, she believes, is the only way they can put their revolutionary zeal to the test. Even her own boyfriend, Holger, is obliged to join in ? much to his chagrin. Gudrun is hoping to distribute the expected ransom money among the impoverished proletariat and so win them over to her cause. But Patrick and Clyde have other plans. Following their successful escape the two lovers embark upon a series of bank raids ...
Dieser Film lief im Xenon im April und Mai 2004