Groupies Forever

»The Banger Sisters« USA 2002 • 99 Min. • frei ab 12 • MPAA: Rated R for language, sexual content and some drug use • engl.O.m.U.

Regie:
Bob Dolman

Buch:
Bob Dolman

mit:
Goldie Hawn,
Susan Sarandon
(s.a. »Alle Farben des Lebens« (2016) und »Begierde - The Hunger« (1982)),
Geoffrey Rush
(s.a. »The King's Speech« (2010) und »Elizabeth« (1998)), Erika Christensen, Robin Thomas

Kamera / Bildgestaltung:
Karl Walter Lindenlaub
(s.a. »Universal Soldier« (1992))

Schnitt / Montage:
Aram Nigoghossian

Musik:
Trevor Rabin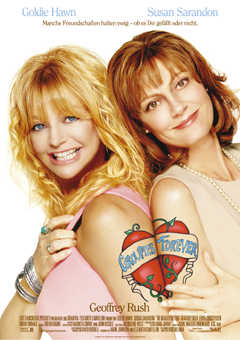 Artwork ...
Suzette, ein resolutes Ex-Groupie, verliert endgültig ihren Job als Theken-Schlampe am Sunset-Strip und erinnert sich plötzlich an ihre beste Freundin von vor 20 Jahren: Vinnie ­ zusammen waren sie die »Banger Sisters.« Kein Rock-Star kam in den 60er und 70er-Jahren an ihnen vorbei ... Kurzentschlossen macht Suzette sich auf nach Phoenix, Arizona, den verloren gegangenen Kontakt wieder herzustellen, doch ... oh, Schreck ... aus Vinnie ist Lavinia geworden, eine biedere Hausfrau und Mutter, die sich in den Farben der Führerschein-Zulassungsstelle kleidet (grau). Doch mit Hilfe der vielen Erinnerungen, ein wenig zuviel Alkohol und anderen Drogen, gelingt es Suzette, Vinnie aus der Reserve zu locken und an die alten Zeiten anzuknüpfen ... Ehemann und Töchter erkennen Mutter und Ehefrau nicht mehr wieder ... und richtig amerikanisch stellt Tochter Hannah in ihrer Uni-Abschluss-Rede fest: ... das wichtigste im Leben ist doch, zu sich selbst zu stehen ...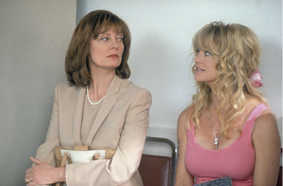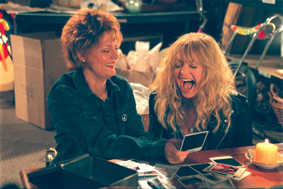 aus Vinnie (li.) ist mit der Zeit eine biedere, graue Maus geworden, deren Kostümfarbe die Farbe der Wand in der Führerscheinzulassungsstelle ähnelt ... Suzette erkennt sie kaum wieder … nach einem Oufit-Wechsel und einigen Drogen, schwelgen die zwei im Keller in Erinnerungen: Polaroid-Fotos von Rockstar-Schwänzen ...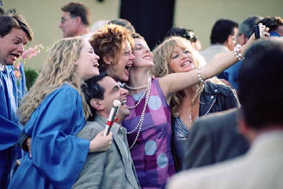 das Auftauchen von Suzette hat der ganzen Familie Vinnies einen neuen Blick auf Mutter/Ehefrau eröffnet ...