Kick It Like Beckham

»Bend It Like Beckham« UK 2002 • 112 Min. • frei ab 6 • MPAA: Rated PG-13 for language and sexual content

Regie:
Gurinder Chadha

Buch:
Gurinder Chadha, Paul Mayeda Berges

mit:
Parminder Nagra,
Keira Knightley
(s.a. »The Imitation Game« (2014) und »Die Herzogin« (2009) und »Edge Of Love« (2008) und »Abbitte« (2007)),
Jonathan Rhys Meyers
(s.a. »Stonewall« (2015)« und »Velvet Goldmine« (1998)),
Archie Panjabi
(s.a.»East is East« (1999)) und
Juliet Stevenson
(s.a. »Food Of Love« (2001) und Erzählerin in »Paris Was A Woman« (1996))

Kamera / Bildgestaltung:
Jong Lin

Schnitt / Montage:
Justin Krish

Musik:
Craig Pruess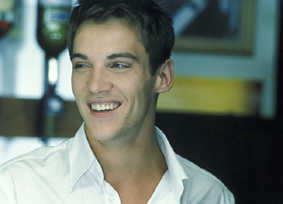 der ausserordentlich attraktive Trainer Joe (Jonathan Rhys-Meyers)
Die 18-jährige Jess Bhamra schwärmt für Superstar David Beckham und sie spielt leidenschaftlich gerne Fussball im Park. Nur darf davon ihre indische Familie nichts erfahren, denn sich in der Öffentlichkeit in kurzen Hosen zu präsentieren, schickt sich nicht für ein braves indisches Mädchen in London. Unterstützung erfährt sie dabei nur von ihren indischen Freund Tony der ebenfalls für den hübschen Beck's schwärmt (wie sich später herausstellt, aber aus eher anderen Gründen ...), doch dann lernt sie im Park Jules kennen, die schon in einem Fussballclub für Mädchen spielt, der von dem süssen Trainer Joe trainiert wird. Und der ist beeindruckt, denn Jess hat echt Talent ... Jess stiehlt ich immer öfter fort zum Training doch so langsam, lässt sich das heimliche Treiben nicht mehr verbergen ... die traditionsbewusste Familie ist geschockt, vermutet zwischen den Mädels fälschlicherweise sogar lesbische Neigungen ... stattdessen outet sich später Freund Tony als Schwuler (... du, ich steh wirklich auf Beckham ...) und da das ganze auch noch so halbwegs von der Hamburger Filmförderung co-produziert ist, ist auch noch ein Kurztrip nach Hamburg drin, in dem die Girls gegen die Mädels von Grün-Weiss Eimsbüttel antreten ... Was will man mehr?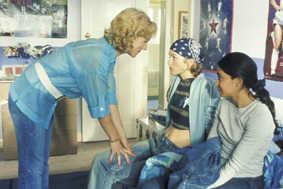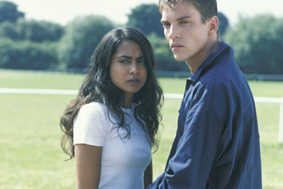 Jules Mutter vermutet zwischen ihrer Tochter und Jess ein lesbisches Verhältnis … während es zwischen Jess und ihrem Trainer Joe kriselt, weil Jess' indische Familie gar nicht glücklich ist mit dieser Freizeitbeschäftigung

Dieser Film lief im Xenon im Januar bis März 2003