Panic Room

USA 2002 • 112 Min. • frei ab 16 • MPAA: Rated R for violence and language

Regie:
David Fincher

Buch:
David Koepp

mit: Jodie Foster
(s.a. »Hotel New Hampshire« (1984) und »Taxi Driver« (1975))),
Kristen Stewart
(s.a. »Still Alice« (2014)), Forest Whitaker,
Jared Leto
(s.a. »Dallas Buyers Club« (2013)),
Patrick Bauchau
(s.a. »Boy Culture« (2006))

Kamera / Bildgestaltung: Conrad W. Hall
(s.a. »American Beauty« (1999)), Darius Khondji

Schnitt / Montage:
Jim Haygood, Angus Wall

Musik: Howard Shore
(s.a. »Maps To The Stars« (2014) und »Dogma« (1999) und »Videodrome« (1983))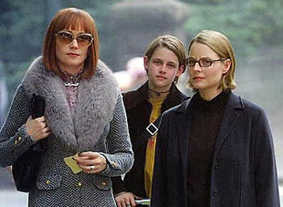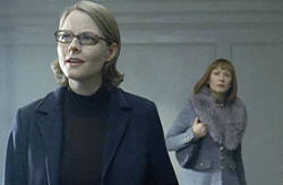 Meg Altman besichtigt nach ihrer Scheidung mit ihrer Tochter und der Maklerin ein Haus in New York ...
Schnell bemerkt sie, dass ein Raum sehr viel grösser sein müsste, als er ist ... sie entdeckt den Panic Room ...
Meg Altman zieht mit ihrer Tochter Sarah in ein New Yorker Sandsteinhaus, das von seinem Vorbesitzer mit einem Panic Room ausgestattet wurde. Die beiden können nicht wissen, wie bald sie ihn brauchen werden. Als drei Männer gleich in der ersten Nacht im neuen Heim einen genau geplanten Einbruch in das Haus durchführen, verschanzen sich Meg und Sarah in der Sicherheit des Panic Rooms ­ und ahnen nicht, dass genau der Panic Room das Ziel der Einbrecher ist ... und diese vor nichts Halt machen werden, um dort hineinzugelangen ...
... düsterer Thriller über Paranoia, Überlebensängste und schleichende Bedrohung, ein kompromissloses, konsequentes und sensationell spannendes Katz-und-Maus-Spiel auf Leben und Tod, in dem sich die zweifache Oscar®-Gewinnerin Jodie Foster ein packendes Duell mit drei Einbrechern, angeführt von Forest Whitaker, liefert ...
A 30-something divorced woman moves with her daughter into a New York brownstone. The house happens to have a hidden room, known as the »panic room,« which is where the two are forced to hide out when three thieves break in to retrieve a hidden stockpile of cash ...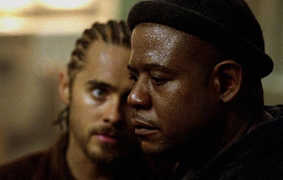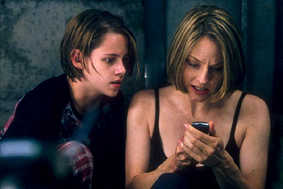 Gleich in der ersten Nacht im neuen Haus tauchen drei Einbrecher auf ... ihr Ziel: der Panic Room, in dem sie verstecktes Geld vermuten ...
Meg und Sarah flüchten sich in den Panic Room, aber das ergatterte Handy funktioniert hier nicht ...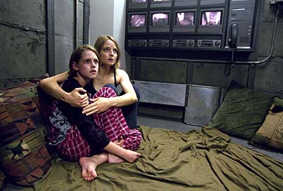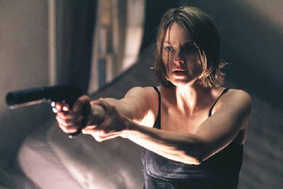 Auf den Monitoren können sie beoachten, was die Einbrecher im Hause tun ... doch Sarah hat Diabetes und braucht dringend Insulin ...
Meg bleibt nichts anderes übrig, als den Panic Room zu verlassen, und sich den Einbrechern zu stellen ...
Dieser Film lief im Xenon im August bis September 2002